Through screen-sharing capabilities, agents and customers can easily navigate through troubleshooting issues.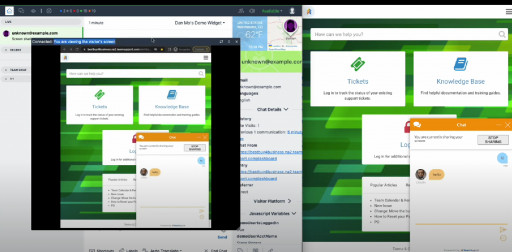 Screen Sharing Interface
Example of screen sharing in live chat software
DALLAS, April 20, 2023 (Newswire.com) - TeamSupport, the award-winning provider of customer support software, has launched a new screen-sharing feature for its live chat platform. This new feature, which allows both chat agents and customers to share their screens, improves time-to-resolution, brings more clarity to troubleshooting moments, and overall, creates better customer experiences.
Because it can be challenging for customer service agents and customers alike to clearly explain the issues being encountered or steps needed to alleviate them through chat, TeamSupport has released the screen-sharing feature so that visual assistance is provided in real time.
With the new ability to share their screen, chat agents can provide more accurate and efficient support because they can quickly provide workarounds to remedy customer frustrations. By sharing their screen during a support chat with a customer, they can easily show customers how to fix their issue, step-by-step.
Likewise, customers can also share their screens with chat agents, making it easier to demonstrate their issues or navigate through complex processes.
"I'm thrilled to see the launch of screen-sharing because it's a game changer for live chat support," said Dan Mowinski, Product Expert at TeamSupport. "Not only does it enable agents to troubleshoot faster, but it empowers a collaborative, visual approach to problem-solving that ultimately reduces time-to-resolution and even increases first-touch resolution."
With this new feature, TeamSupport is reinforcing its commitment to producing solutions that make it easier to deliver exceptional customer support care. TeamSupport customers can now take advantage of screen-sharing capabilities to streamline troubleshooting, solve issues faster than ever before, and create better customer experiences.
For a demo of the new feature, please click here.
About TeamSupport
TeamSupport is a comprehensive customer support software solution that manages the entire post-sale customer experience and ensures B2B organizations build strong customer relationships. Our platform includes a ticketing system, live chat software, advanced customer analytics, and customer success software. We help companies adopt more customer-first mentalities through seamless collaboration and streamlined workflows, which results in revenue growth, a lower churn rate, and higher customer satisfaction.
For more information, please visit www.teamsupport.com
Contact Information:
Alicia Delgado
Content Marketing Manager
[email protected]
469 482 9034
Original Source:
Decreasing Time-to-Resolution Through Screen-Sharing: TeamSupport Releases New Live Chat Feature to Bring More Clarity to Customer Support Efforts
The post Decreasing Time-to-Resolution Through Screen-Sharing: TeamSupport Releases New Live Chat Feature to Bring More Clarity to Customer Support Efforts first appeared on NORLY NEWS.
Tech - NORLY NEWS originally published at Tech - NORLY NEWS