Environmental Justice, Food Insecurity, and Acts of Service Are Top Themes Among Winners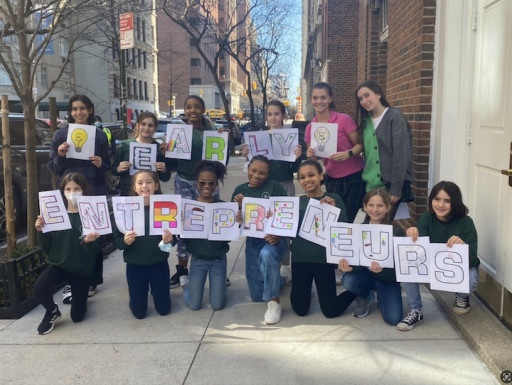 Early Entrepreneurs, 2023 C4K Winner
The program champions young girls in underserved communities to pursue entrepreneurship.
NEW YORK, May 5, 2023 (Newswire.com) - Riley's Way Foundation just announced its 2023 Call For Kindness winners: 40 outstanding young people (ages 13-22) from across the country whose innovative ideas have granted them entrance into a dynamic leadership fellowship - and up to $3,000 each for their commitment to leading with kindness, empathy, and inclusivity.
"The Call for Kindness inspires and draws in exceptionally gifted young leaders who are driven by a deep passion to make the world a better place," expressed Ian Sandler, Co-Founder and Board Chair of Riley's Way. "These remarkable young leaders hold the key to tackling the world's most pressing issues, and by investing in them, we can help them turn their ideas into reality. Whether they are just beginning to explore or have advanced plans, we strive to support and encourage them to imagine a better future and work tirelessly toward it."
The Call For Kindness projects create a clear blueprint for uplifting communities and bringing hope for a better future. Forty winning social impact projects were chosen from hundreds of applications and came from 20 states. In addition to the general category, this year, Riley's Way selected 10 inspiring projects focusing on environmental justice as young people noted this critical issue.
"The 2023 Call For Kindness winners reflect critical issues top of mind for young people today," shared Dr. Christine O'Connell, Executive Director of Riley's Way. "They answered the call to make a difference, adding to a national movement for kindness."
Along with environmental justice, top themes among the 2023 C4K projects include addressing food insecurity, healthcare advocacy, volunteerism, entrepreneurial skill-building, STEAM, and meeting others' basic needs. A few examples:
Connor's Kindness Project provides specially curated "Kindness Kits" that are delivered to children in hospitals and shelters. And with Princess for a Day, girls in foster care participate in paint parties and other interactive events and activities to ensure they feel special, seen, and loved.
"To me, earning the Call For Kindness means a chance to make an impact," shared 2023 C4K Winner Leigh Foran (IDEA). "This is a chance for me to learn to be a better version of myself while simultaneously making an impact on the world around me."
In addition to the 2023 Call For Kindness winners, Riley's Way Foundation awarded eighteen continuation grants for previous winners to continue their social impact work.
"As someone who is passionate about using community impact and power to make change, Riley's Way truly supports that," shared Gillian Johnson, 2023 Continuation Grant Winner and Founder of Recovery Meet-Ups.
To learn more about Riley's Way, visit RileysWay.org or support the Movement on Instagram @rileyswayfoundation and Facebook @RileysWayFoundation.
About Riley's Way Foundation
Riley's Way is a national nonprofit that invests in and supports the next generation of kind leaders. They provide young people with the programs, support, and inclusive community they need to thrive as changemakers, including seed funding for social impact projects, coaching and skill-building, networking opportunities, and a peer community.
Riley's Way Foundation 2023 Call For Kindness Winners
Trina Beckwith (she/her), 22, Advocates for Autism Peer Mentorship Program, Binghamton, NY
Through this program, neurodivergent college students mentor young people also on the spectrum.
David Chen (he/him), 18, and Caroline Gao (she/her), 18, Aster Lit, Duluth, MN
An international youth literary community illuminating diverse voices through a biannual literary magazine, podcast, workshops, and open mics.
Abigail Fixel (she/her), 18, Camp Fixel, Jacksonville, FL
A free, two-week musical theater summer camp for children from low socioeconomic backgrounds and foster children in Jacksonville, FL.
Zoe Taper (she/her), 21, (and team), Camp Nefesh, Sacramento, CA
Provides a fun, free summer day camp experience for refugee children and helps them and their families transition to life in the Sacramento region.
Shrusti Amula (she/her), 16, and team, Can We Do Something About Food Waste?, Clarksburg, MD
Diverts food waste to compost facilities and rescues food from schools, restaurants, and grocery stores for community members facing food insecurity.
Gaayathri Binoj (she/her), 17, Chess Queens On And Off The Board, Chesterfield, MO
Increases female participation in chess with a free monthly series of chess sessions for female youth, including a chess tournament.
Miles Hopkins (he/him), 16, Clothes for Care, Wixom, MI
Provides individuals with essential outerwear for harsh winters.
Neal Chopra (he/him), 17 (and team), Codology, Redwood City, CA
Offers free hands-on computer science courses, research, and resources that help guide students along their journey to becoming tech industry leaders.
Jiahao Guo (he/him) 20, (and team), Concourse International, Mason, OH
Makes international and intercultural accessible through virtual exchanges focused on learning about the countries and regions of the world.
Connor Wright (he/him), 13, Connor's Kindness Project (CKP), Lynnfield, MA
Provides "Kindness Kits" to children in hospitals and shelters containing carefully selected entertaining, educational, and comforting items.
Florine Tutelman (she/her), 16, Early Entrepreneurs, New York City, NY
Champions young girls in underserved communities to pursue entrepreneurship by teaching the fundamentals of starting a business and peer-to-peer mentorship and learning.
Chase Hartman (he/him), 17, and Zach Hartman (he/him), 13, Eco Brothers, Inc., Tampa, FL
Promotes community service and gets new books into the hands of children in need.
Olivia Coleman (she/her), 19, Edible Ham, Birmingham, Alabama
A food justice project that improves the growth of nutritious food and promotes sustainable living.
Christopher Fuentes (he/him), 13, and Jazlyn Fuentes, 16, Feel Our Meals, Staten Island, NY
Provides families who do not have access to basic necessities a chance to experience warmth, love, and cultural heritage through food.
Laasya Acharya (she/her), 15, Gaea: A Model Utilizing Unsupervised Learning to Detect Pest Damage in Crops, Mason, OH
Encourages the world to solve issues with science and create awareness about food insecurity through research, advocacy, and education.
Lina Lin (she/her), 17 and (team), Global Youth Economics Forum, New York, NY
Connects under-resourced, first-generation, low-income, and students of color to the world of business, finance, economics, and higher education through talks and sessions.
Breyanna Dabney (she/her), 19, and Amaya Murillo (she/her), 19, Granny Project, Baltimore, MD
Ingredients are delivered to participants/families before a "granny" is streamed live on YouTube for an interactive cooking session using the same ingredients.
Leigh Foran (she/her), Inclusion and Diversity through Education and Awareness (IDEA), Westport, CT
Focuses on teaching children about sensitivity to topics related to diversity and inclusion.
Luka Jacobi-Krohn (he/him) Jupitar Consul Sociis, MN
Looks at bills currently being discussed or are still in committee and meets with Minnesota state legislatures.
Luke Amberman (he/him), 15, Justice Garden, Gaithersburg, MD
Combines environmental justice through living art, restoration of native habitats to support threatened pollinators, and more green spaces in underserved communities.
Jerry Chen (he/him), 18, Legal Studies Institute, Brooklyn, NY
Focuses on the lack of legal education in public schools and low-income neighborhoods by advancing introductory civil rights and legal education to NYC HS students.
Kate-Yeonjae Jeong (she/her), 18, Light Up Network, Houston, TX
Fosters intergenerational connections and partners with nursing homes, veterans' hospitals, and hospices by hosting painting and poetry workshops for the elderly.
Daniel Block (he/him), 20 (and team), Local Food Distribution, Sheldon, IL
Practices farming methods to regenerate soil and mitigate climate change with an apprenticeship program for young land stewards.
Anbini Ganesh (she/her), 16, (and team), Love and Sweet Bakery, Seattle, WA
Donates meals and baked goods to shelters. All fundraising and e-commerce profits are donated to children's hospitals and food pantries.
Jia Michel (she/her), 15, and Taja Richardson (she/her), 15, myNetworkher, Brooklyn, NY
A website connecting mentors and mentees in gender-marginalized communities through STEM-enriching initiatives.
Ashley Nevison (she/her), 16, Operation Hope Drop, Louisville, KY
Youth learn about the importance of providing essential food and hygiene items to Kentuckians in need by building, decorating, and installing "Blessing Boxes."
Krish Sharma (he/his/him), 16 (and team), Power of Pawns, Brookfield, WI
Dedicated to championing underserved communities through the game of chess.
Jordan West (she/her), 13, Princess for a Day, Fort Mill, SC
Organizes paint parties for foster girls and takes them to theater productions and even Disney.
Jahkil Jackson (he/him), 15, Project I Am: Next Up, Chicago, IL
Encourages volunteerism and civic engagement among youth through an Afterschool Community Service Club.
Michelle Song (she/her), 16, and Seoyun Jo, 17, Read, Seed, Feed, Greenville, NC
Supports underserved communities through gardening, fresh produce donations, cultural food tastings, and literary justice initiatives.
Austin Picinich (he/him), 17, Save Our Salmon "SOS" Through Art, Seattle, WA
Creates large painted murals along Seattle-area streams to encourage others to become better stewards of local streams.
Leydi Borges (she/her), 16, and Alex Interian (he/him), 15, Sci+Pi4All, Hialeah, FL
A virtual initiative that provides free science and math resources to children to help youth see the possibilities of STEM.
Maya Gowda (she/her), 18, Students for Environmental Education and Discovery (SEED), Miami, FL
Provides students in schools worldwide with a comprehensive climate education and inspires them to take action.
Mark Leschinsky (he/him), 17, Student World Impact Film Festival, Mahwah, NJ
Elevates the voices of young storytellers from historically marginalized races, backgrounds, and cultures to give them the opportunity to share their stories with the world.
Jessie Baxter (she/her), 16, and Holly Milsom (she/her), 15, Ta-Ta For Now, Palm Beach, FL
Provides girls of all socioeconomic backgrounds with supportive undergarments so they feel comfortable and prepared to compete in sports.
Max Sano (he/him), 22 (and team), The Greenzine, Astoria, NY
Publishing and mentorship platform provides opportunities for young climate leaders, artists, storytellers, researchers, and changemakers across the globe.
Kiersten Helm (she/her), 21, Water the Seed, Blue Springs, MO
Champions rural students aged 15-21 to become future leaders in their communities through workshops, networking circles, and field trips.
Benjamin Barkoff (he/him), 18, Whiskey Bravo, New York City, NY
Youth learn about the US military through hands-on service projects while improving the lives of service men and women and their families.
Alec Tan (he/him), 17, Arabella Tan, 15, (and team), WikiVision, Honolulu, HI
Addresses the need for free cataract surgery among underserved patients who lack access to affordable healthcare.
Clara Choi (she/her), 15, and Piper Rovsek, 16, Wired 4 Dance, Irvine, CA
(Yuriko Kikuchi Arigato Award Winner)
Provides adaptive, inclusive, and therapeutic dance classes to underserved youth with disabilities.
###
Photos and interviews with winners are available upon request.
Contact Information:
Shonda Smith
Communications Director
[email protected]
973-544-8514
Related Files
Riley's Way_horizontal.png
Original Source:
40 Youth-Led Projects Earn Distinguished National Call for Kindness Prize
The post 40 Youth-Led Projects Earn Distinguished National Call for Kindness Prize first appeared on TREND MAG.
Lifestyle - TREND MAG originally published at Lifestyle - TREND MAG