Stevens Transport named to the Forbes list of America's Best Employers 2023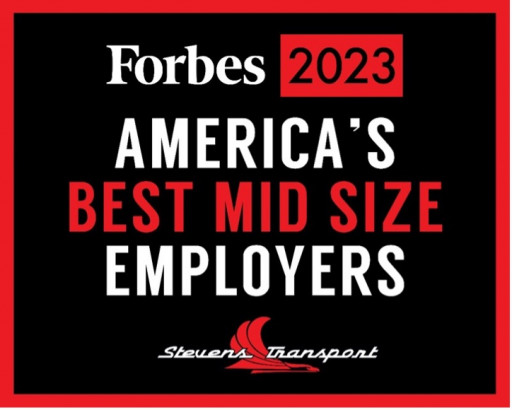 America's Best MidSize Employers
Stevens Transport named one of America's Best Employers 2023 by Forbes.
DALLAS, February 22, 2023 (Newswire.com) - Stevens Transport, North America's premier multi-modal, temperature-controlled transportation and logistics company, announced that they have been named to the Forbes list of America's Best Employers 2023. This award, presented by Forbes and Statista, is based entirely on employee satisfaction and their willingness to recommend their employer to others.
"We are honored to receive this prestigious recognition from Forbes, as it reflects how our employees feel about the organization and our standing as a leader in our industry. Stevens Transport is committed to building a dynamic, rewarding workplace for everyone, and this acknowledgment confirms that we are creating an inclusive workplace culture that benefits every member of our team," said Angela Aaron Horowitz, Vice President of Stevens Transport. "Creating a supportive, diverse, and engaging environment for our people is a priority to us and vital to our mission of being one of the best places to work in America."
Forbes America's Best Midsize Employers 2023 were identified in an independent survey taken by approximately 45,000 American employees working for companies with more than 1,000 workers in the United States. In total, 500 large and midsize employers were recognized across 25 different industry sectors.
To learn more about Stevens Transport, hear why employees think it's a great place to work, and learn about current opportunities, visit https://www.stevenstransport.com/careers/corporate/
###
About Stevens Transport
Stevens Transport is the largest refrigerated trucking company in Texas and North America's premier multi-modal, temperature-controlled transportation and logistics company. The specialized nature of time-sensitive truckload shipments gives Stevens Transport a unique advantage in the supply chain marketplace as a logistics leader valued by a wide range of Fortune 500 ® customers. Beyond capacity-driven operations, Stevens Transport injects an unmatched integrity into a corporate business model that reflects more than 40 years of consistent growth and success. To learn more about Stevens, visit www.stevenstransport.com or find them Facebook at https://www.facebook.com/StevensTransport and Twitter at https://twitter.com/Drive4Stevens.
Contact Information:
Angela Horowitz
Vice President
[email protected]
972 216-9000
Original Source:
Stevens Transport Honored by Forbes as One of America's Best Employers
originally published at Business - Social Gov