Acquisition Represents: First acquisitions located in Livingston, Lufkin, and Porter, Texas; Seven franchise dealerships and one pre-owned supercenter; Four stores in three locations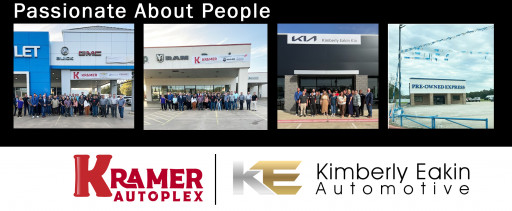 Kramer Automotive & Kimberly Eakin Automotive Acquire Premier Auto, Texas
Kramer Automotive & Kimberly Eakin Automotive Acquire Premier Chrysler Dodge Jeep Ram, Premier Chevy Buick GMC and Premier Kia.
LIVINGSTON, Texas, March 3, 2023 (Newswire.com) - Newly formed Kramer Automotive and Kimberly Eakin Automotive, two of the newest automotive retail groups in the U.S., just completed the acquisition of Premier Chrysler Dodge Jeep Ram and Premier Chevrolet Buick GMC in Livingston, Texas, as well as Premier Kia in Lufkin, Texas, and the Pre-Owned Express Supercenter in Porter, Texas.
"We were very fortunate to represent Karl Williams' Elm Creek Auto Group with the sale of three dealerships to Kramer Automotive. The transaction was an ideal fit for both organizations which will continue to focus on developing their core businesses. We expect that these acquisitions will serve as a strong first step as Chuck Kramer and his team build another successful automotive group. Special thanks to Tim Smith, Christine Bennett and the exceptional Elm Creek staff," said Brian Evans, Principle with Ozog Consulting Group.
"Our teams are excited about these acquisitions and look forward to expanding on the Premier heritage and foundation created by the Karl Williams' Elm Creek Auto Group," said Chuck Kramer, Principle of Kramer Automotive. "Kramer Automotive is proud to be locally owned. Thus, we will be hiring and helping the economy and supporting all local businesses. We look forward to expanding on the opportunities Premier provided to their employees, their families, and the community," continued Chuck.
"We look forward to providing these dealerships and customers with even higher levels of exceptional service, community and charitable support, and a family atmosphere. Our employees will be our true partners," said Kimberly Eakin, Dealer Principle of Kimberly Eakin Automotive and Managing Partner in Kramer Automotive. As the active Dealer Principle and Managing Partner of all Kramer and Kimberly Eakin stores, Kimberly will be in charge of all day-to-day operations to include hiring, processes and all other operational decisions. She is actively hiring for all stores. Please send employment interests to [email protected]
Kramer Automotive and Kimberly Eakin Automotive believe in 100% employee satisfaction. Customer satisfaction will be their #1 mission. Additionally, they believe in sharing profits with their employees and their communities. The auto groups will dedicate resources to supporting local charities and community involvements such as:
Schools and School Boards
FAA
Local Rodeos and Events
Mothers Against Cancer
Local Chambers of Commerce
First Responders
Police and Firemen
Local City and County Sheriff and Judges
Local Food Banks
We have huge support for all the current and retired military members and their families.
To support their mission, the stores will feature customer satisfaction programs to include:
The ability to deliver vehicles anywhere in the United States
Seven-day guarantee on all pre-owned vehicles — if you are not satisfied, bring the vehicle back
Offer over 200 quality pre-owned vehicles
About Chuck Kramer
Chuck has had a passion for the automotive industry that spans over four decades. His career started in 1983, in the trenches, as a lube technician. He was quickly recognized as capable of doing more. He moved into sales and rapidly became the #1 salesperson at his dealership. The promotions that followed swiftly moved him up the ranks. He eventually rose to be Managing Partner with Randall Reed, Planet Ford and was also General Manager at Lawrence Marshall Ford Hyundai Chevrolet Cadillac and the Pre-Owned Supercenter.
Chuck is also the former COO of Foundation Automotive and the Dealer Principle of Henson Ford and Henson Chevy Buick GMC in Madisonville, Texas, Foundation Kia in Wheat Ridge, Colorado, Castle Rock Ford and Castle Rock Dodge Chrysler Jeep Ram in Castlerock, Colorado, Foundation GMC Buick and BMW of Wichita Falls, Kramer Chevrolet in Mandan, North Dakota, Jones Chevy and Jones Buick GMC in Savannah, Tennessee.
He brings to the organization a multitude of operational turnaround and growth skills, team development knowledge, and intimate automotive experience in variable, fixed, and financial operations. He has successfully managed over 1,500 employees and has been blessed to be a part of the employees' lives and their families.
Chuck has been married to his wife, Claire, for 24 years and together they have six beautiful daughters and five grandchildren.
Chuck's passion for the community includes his involvement in many charities such as Mothers Against Cancer, Houston Livestock and Rodeo-Calf Committee, Village Learning Center, Family Time Charity, and the Humble ISD Education Foundation.
About Kimberly Eakin
Kimberly Eakin is the Managing Partner/General Manager for Dennis Eakin Kia in Killeen, Texas. Kimberly began her automotive career 20 years ago as a salesperson for her family-owned auto group. After several years in sales, she worked in various roles in other departments and learned and understood the complexity of operating a dealership. Every day, Kimberly looks forward to coming to work, knowing there will be a new challenge and opportunity for growth waiting for her. She enjoys spending time in the showroom and service department, interacting with customers and team members, and empowering employees. Kimberly said it has been a privilege to work for her father over the years and to ensure that his community and family core values continue at Dennis Eakin Kia.
Kimberly graduated from NADA Dealer Academy, attended Texas Christian University and has a degree in nursing from Central Texas College. She is a nominee in the 2022 class for Women in Retail.
Kimberly has been married to her husband Sean for 14 years and together they have two young and very active boys. They actively support the military and veterans in their community through Wreaths for Veterans and Korean War Veterans Association, as well as Toys for Tots, and the Central Texas Special Olympics.
About Kramer Automotive & Kimberly Eakin Automotive
Kramer Automotive & Kimberly Eakin Automotive offer an extensive range of automotive products and services, including new and used vehicles; parts and service, which includes vehicle repair and maintenance services, replacement parts and collision repair services; and finance and insurance products, including arranging vehicle financing through third parties and aftermarket products, such as extended service contracts, guaranteed asset protection debt cancellation, and prepaid maintenance.
Contact Information:
Brenda Finch
Marketing Dir.
[email protected]
713-478-2093
Original Source:
Newly Formed Kramer Automotive and Kimberly Eakin Automotive Complete the Transformative Acquisition of Premier Chrysler Dodge Jeep Ram, Premier Chevy Buick GMC & Premier Kia
originally published at Business - Social Gov