Suranjan's consulting experience, sales leadership and strategic vision will guide and lead Sage IT's services division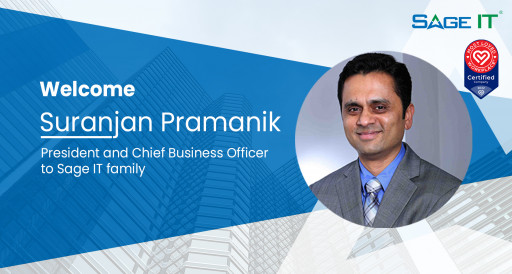 Sage IT appoints Suranjan Pramanik as President & Chief Business Officer
Sage IT appoints Suranjan Pramanik as President & Chief Business Officer
FRISCO, Texas - January 19, 2023 - (
Newswire.com
)
Sage IT, an emerging leader in digital business transformation and optimization, today announced the hiring of Suranjan Pramanik as their President & Chief Business Officer at their corporate headquarters in Frisco, TX. 
Sage IT combines technology expertise with industry knowledge to further customers' transformation goals and enhance their business results. Sage IT has built a reputation of being a reliable and dependable technology partner who goes the extra mile to surpass expectations. Leveraging cutting-edge and ready-to-use accelerators, strong partnerships with digital technology providers, and an experienced trained team of experts, Sage IT is able to serve every customer's unique objectives. Sage IT is the Innovation Partner and 2022 North America Partner of the Year for TIBCO.
In response to customers' demand, Sage IT has expanded its technology services portfolio with deep focus on Cloud, Platform modernization and Managed services to further enable their customers to build a Composable, Hyper-automated, Scalable and Data-driven enterprise.
Suranjan, a graduate from the Indian Institute of Management (IIM) Lucknow and Indian Institute of Technology (IIT) Kanpur, comes with over two decades of progressive experience in serving at executive leadership positions with global responsibilities at small and large companies including Infosys, IBM, and CSS Corp. He also worked with a number of tech start-ups advising them on product market strategy and fit and Go to Market initiatives. Suranjan is a highly engaged and perceptive leader who excels in driving business growth and improving P&L in complex organizations. He is a champion of change, leading cost-saving initiatives and business transformation efforts, and is adept at building and leading high-performing, customer-focused, and collaborative teams to achieve and surpass business goals by delivering value to customers.
Sagar Pelaprolu, Chief Executive Officer, Sage IT stated, "Suranjan's leadership experience, his ability to effectively engage with customers and partners, and his experience working with developing industry-leading organizations makes him an excellent fit to lead strategy and Go to Market at Sage IT. We are confident that his consulting experience, sales leadership and strategic vision will guide and lead our IT services division towards achieving our goals."
"In this age of disruption driven by rapid technological advancements, organizations want capable and nimble partners to effectively drive their digital transformation for sustained competitive advantage. Sage IT is an innovative technology company and has successfully demonstrated these capabilities at leading enterprises to build the agile platforms necessary for superior business results. I am excited to join the Sage IT family to scale the business and deliver lasting value to our customers and partners," says Suranjan.
About Sage IT
Sage IT is a leader in digital transformation and optimization and a global provider of IT services. The company focuses on achieving sustainable business outcomes for customers by enabling customer enterprises to become Composable, Hyper-automated, Scalable, and Data-driven by doing the cloud right. Established in 2003, Sage IT has a global delivery structure that is equipped with solution experts, proven tools, and methodologies. The company has developed strong partnerships with leading digital technology providers to provide cutting-edge solutions, and services to its customers. To learn more about Sage IT, visit the company's website at www.sageitinc.com, and follow them on LinkedIn and Twitter.
Contact Information:
Shishir Vahia
AVP Marketing
[email protected]
+1 214-619-2030
Press Release Service by
Newswire.com
Original Source:
Sage IT Appoints Suranjan Pramanik as President & Chief Business Officer
Tech News - originally published at Tech News -