There is one seasoning above all to make everything from vegetables, fish, and even game meat taste delicious and its Cracker Boy Seasonings. Created in 1997, Cracker Boy Seasoning has been a cult favorite among customers looking for the ultimate seasoning for all their home-cooked dishes.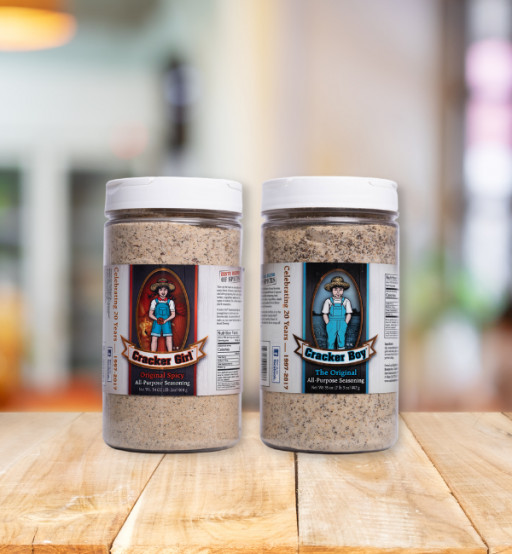 Cracker Boy & Cracker Girl Seasonings
Discover Cracker Boy Seasonings Award-Winning Products Today
NEW SMYRNA BEACH, Fla. - October 31, 2022 - (
Newswire.com
)
Owner and founder Brent Price started Cracker Boy Seasonings in 1997 from homemade family recipes mixed and packaged by hand. Set on a mission, Brent personally delivered each product to local stores up and down Florida's East Coast from Jacksonville to Okeechobee. As the demand for Cracker Boy Seasonings grew, Brent turned to a local manufacturer to keep his product stocked on shelves at over 200 retail locations.
Since 1997 they have been making award-winning seasonings for over 25 years and selling them to thousands of customers across the United States. Their signature seasoning, Cracker Boy Original Seasoning, is available in a 35-ounce shaker bottle and is handcrafted from the finest ingredients and spices.
It's not just by chance that this seasoning grew to what it is today. With Brent's hard work and attention to customer satisfaction, there is a reason why customers flock to trade shows across the United States just to get their hands on a bottle of Cracker Boy Seasonings. Don't just take their word for it; check out what their happy customers have to say.
"Best spice for all occasions" - Philip Wilkins
"I love Cracker boy and order it every few months. I use it with everything." - Stephanie Royal
From seasonings to sauces and batters, Cracker Boy Seasonings has it all! Now is the time to try all their most popular flavors, such as the Cracker Girl Original Spicy and Cracker Boy Lemon Pepper, made with real lemon zest to make a bite bursting with flavor. With their new Amazon storefront, Prime members can receive next-day delivery on select Cracker Boy Seasonings, don't wait; order today! 
Contact Information:
Brent Price
Founder
[email protected]
Press Release Service by
Newswire.com
Original Source:
Cracker Boy Seasonings Award-Winning Products Are Now Available on Amazon
originally published at Business - Social Gov